Call for Paper: The 2019 China Meeting of the Econometric Society
June 18–20, 2019
Jinan University
Guangzhou, China
The 2019 China Meeting of the Econometric Society (2019 CMES) will be hosted by the Institute for Economic and Social Research (IESR), Jinan University, on June 18–20, 2019. The submission deadline is March 15, 2019. Papers can only be submitted electronically through the Conference Maker website at http://editorialexpress.com/conference/CMES2019/.
Session proposals (3 papers per session) are also welcome. Please note that at least one of the authors must be a member of the Econometric Society, and all participants must register for the conference. You may join the society at http://www.econometricsociety.org/. Each person may submit and present only one paper; however, each person is allowed to be a co-author of several papers submitted to the conference.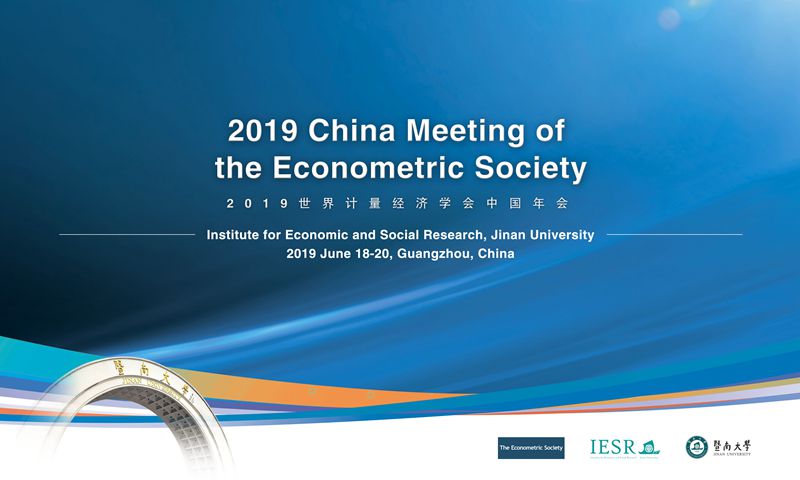 Program

Please click here
CEMP BROCHURE-final.pdf to download the conference program.
Important Dates

Submission Deadline: March 15, 2019
Decision Notification Deadline: April 15, 2019
Registration Deadline: May 15, 2019
Preliminary Program Announcement: May 24, 2019
Keynote speakers
Jess Benhabib, New York University
Xiaohong Chen, Yale University
Christian Dustmann, UCL
James J. Heckman, University of Chicago
Samuel Kortum, Yale University
Tong Li, Vanderbilt University
Jianjun Miao,Boston University
Whitney Newey, MIT
Ariel Pakes, Harvard University
Enrique Sentana, CEMFI
Junsen Zhang, CUHK
Program Committee
| | |
| --- | --- |
| Shu Cai | Jinan University |
| Jimmy Chan | Chinese University of Hong Kong |
| Songnian Chen | Hong Kong University of Science and Technology |
| Jianqing Fan | Princeton University |
| Hanming Fang | University of Pennsylvania |
| Shuaizhang Feng (Chair) | Jinan University |
| Yizhen Gu | Jinan University |
| Yingyao Hu (Chair) | Johns Hopkins University |
| Kamhon Kan | Academia Sinica |
| Lung-Fei Lee | The Ohio State University |
| Qi Li | Texas A&M University |
| Shi Li | Beijing Normal University |
| Tong Li | Vanderbilt University |
| Jingliang Lu | Jinan University |
| Ming Lu | Shanghai Jiao Tong University |
| Wei Shi | Jinan University |
| Ji-Liang Shiu | Jinan University |
| Matthew Shum | California Institute of Technology |
| Liangjun Su | Singapore Management University |
| Lixin Tang | Jinan University |
| Pengfei Wang | Hong Kong University of Science and Technology |
| Danyang Xie | Hong Kong University of Science and Technology |
| Daniel Yi Xu | Duke University |
| Chunlei Yang | Nanjing Audit University |
| Vincent Yao | Georgia State University |
| Sisi Zhang | Jinan University |
| Xiaobo Zhang | Peking University |
| Yaohui Zhao | Peking University |
Local Organizing Committee
Wei Shi, Jinan University
Shiyu Bo, Jinan University
Jiajia Gu, Jinan University
Yizhen Gu, Jinan University
Sisi Zhang, Jinan University
Enquiries
Please contact ocmes2019@jnu.edu.cn